Congrats to the newly elected board members. New board member Jon Graskewicz, New board member Kendall Browning, Schannone Steinberger, and Kevin Toney. They are being sworn in by Superintendent Matt Donkin!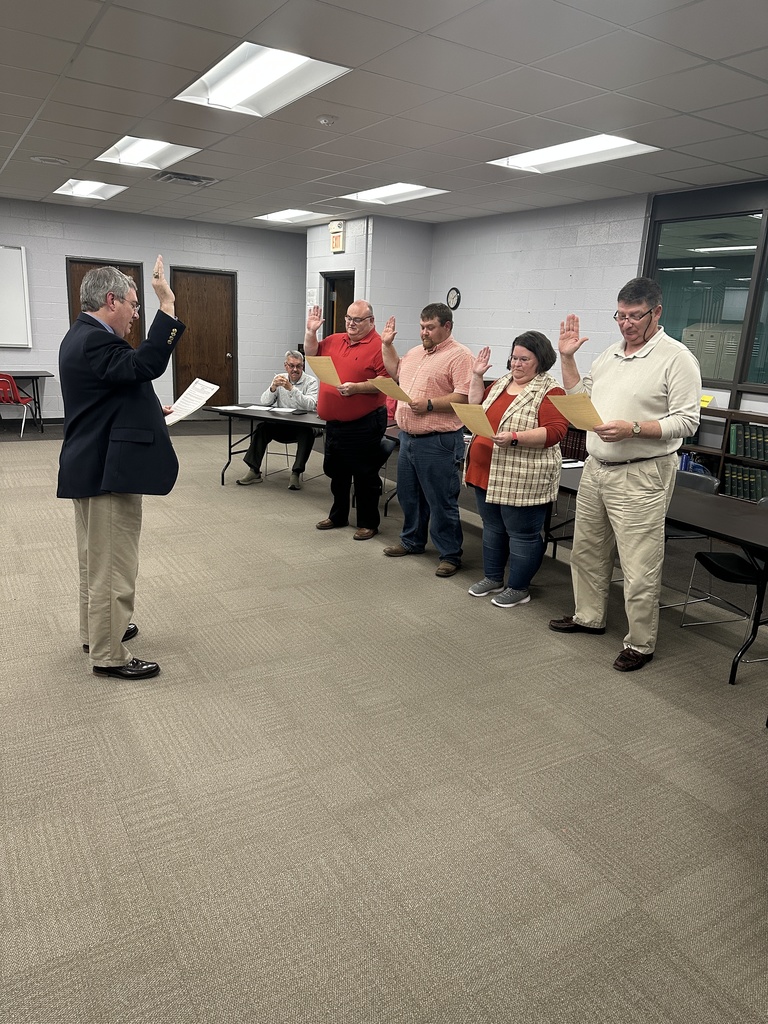 Good Luck to our HS girls Track Team today as they will be traveling to Herrin! Good Luck to our Baseball and Softball teams as they will be playing Massac at home today! 4/24

Tomorrows (4/22) Baseball games at Hamilton County has been cancelled!

Just wanted to update everyone on our newly hired coaches for the 23/24 school year HS Girls Volleyball Head Coach Nick Ramsey Assistant Coach Jennifer Skelton CJHS Boys Basketball Head Coach Matt Weeks Assistant Coach Kyle Melvin CJHS Softball Head Coach Davy Broy Assistant Coach Terry Gunter HS Boys Golf Head Coach Josh Webb The district is very excited to have these coaches and excited to see what they will be able to do with our student athletes.

Good Luck to our HS boys baseball team today as they take on ZRC at home! Also the HS softball game today that was scheduled at Waltonville has been cancelled. 4/19
The FCHS Cheer Tryout sign-up form can be accessed through the QR code below. Any questions or comments regarding tryouts can be directed to Coach Jenna Harris at
jharris@wfschools.org
.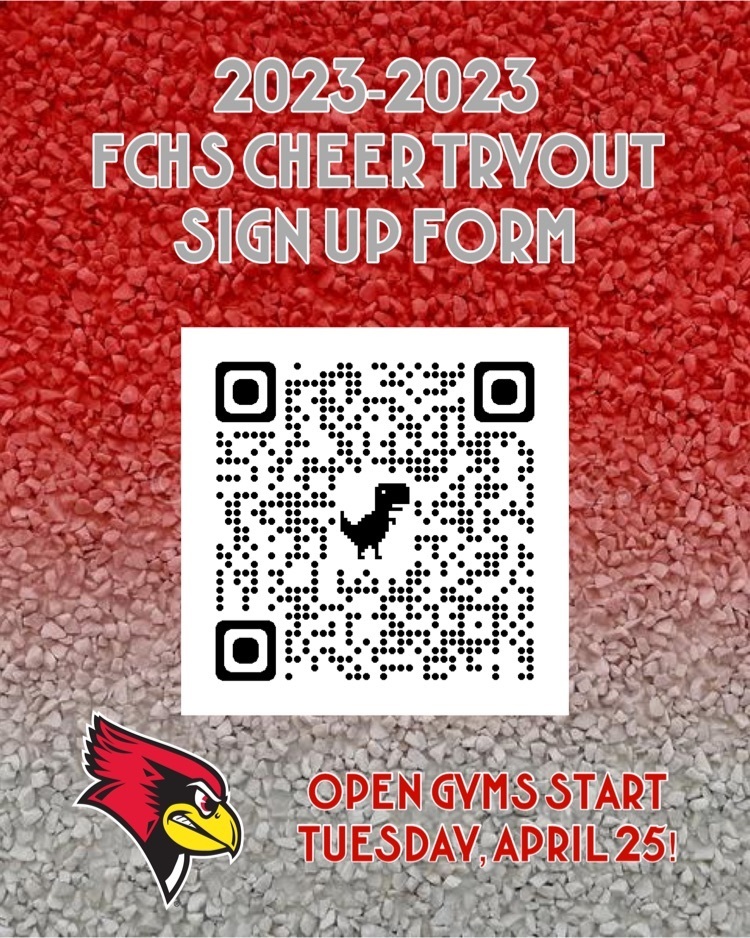 Good Luck to our Girls HS Track team today as they travel to Benton Good Luck to our Boys baseball and Girls Softball teams today as they will take on Benton at Home today! 4/17

Good Luck to our baseball and softball team today as they travel to Harrisburg! Good Luck to our HS girls track meet today at our Lady Redbird Invite! 4/13

Good Luck to the HS boys track team today at Herrin! 4/11

Good Luck to our Baseball and Softball team as they travel to Massac today! 4/11

Frankfort Community Unit School District #168 is accepting applications for a Director of Financial Services (12-month position). Candidates should have experience in accounting, bookkeeping, and payroll services. Advanced training in accounting is preferred. A job description can be found on the District's website at
www.wfschools.org
and at
https://5il.co/1s8c0
. All interested candidates must send a letter of interest, a resume, and three references to Mr. Matt Donkin, Superintendent of Schools, at
mdonkin@wfschools.org
or to the Administrative Service Center at 900 North Cherry Street / P.O. Box 425, West Frankfort, IL 62896, to be considered for employment. Applications will be accepted until the position is filled.

Frankfort Community Unit School District is looking for a Social Worker to come join our team. If you know of anyone looking for a job please send them our way! Please Share!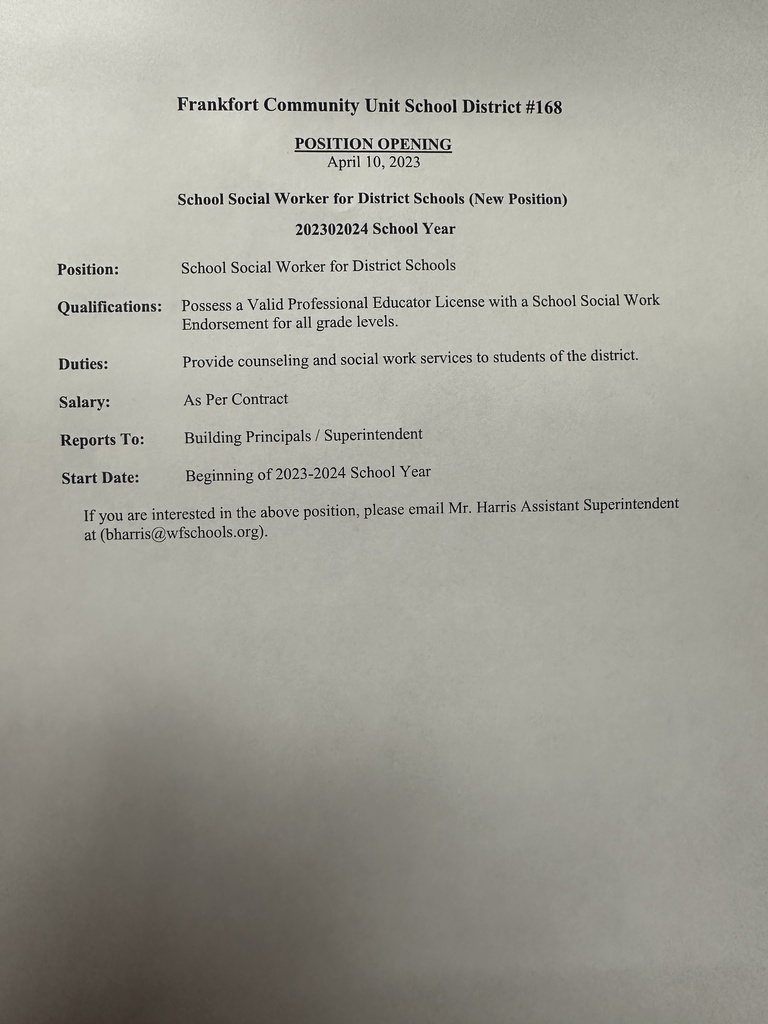 FCHS Baseball game vs Murphy is canceled for today, FCHS Softball will still play at 4:30! 4/7

CJHS Teachers and Staff playing volleyball today in preparation for Spring Break! 4/6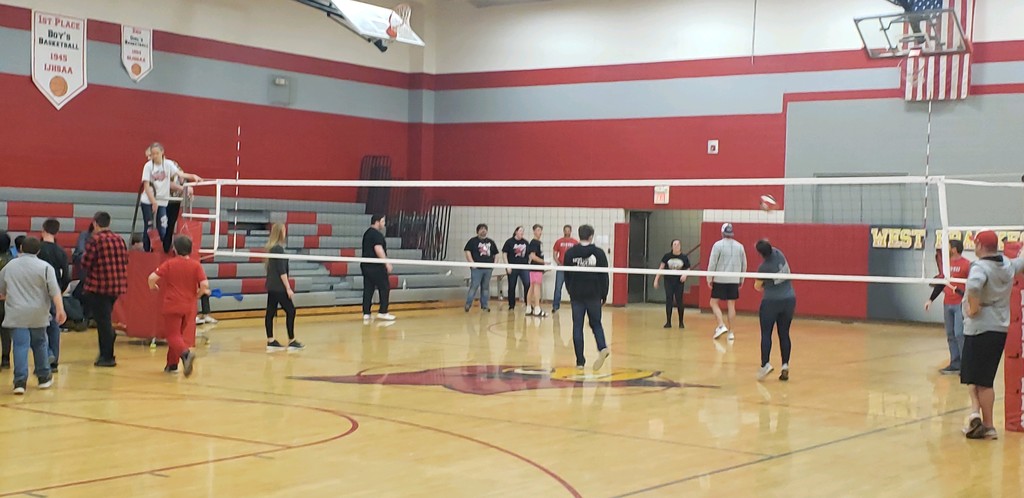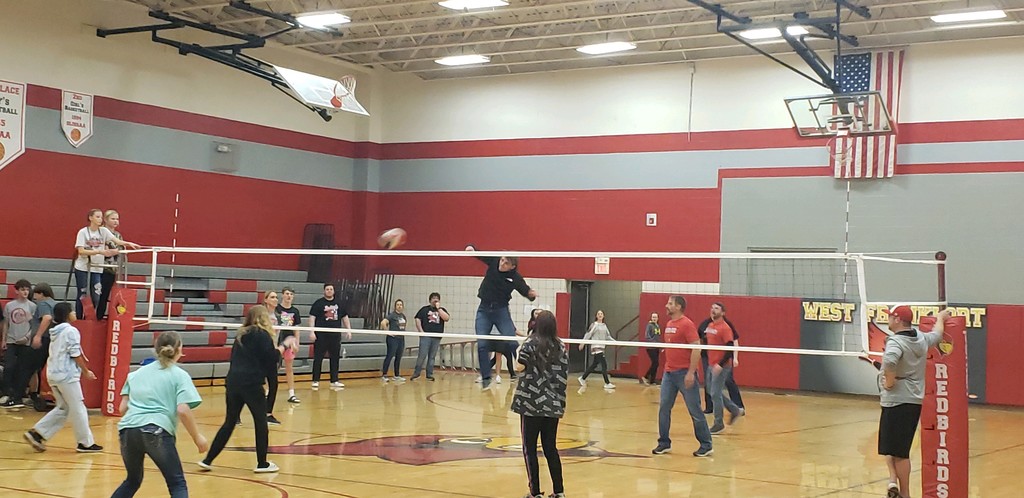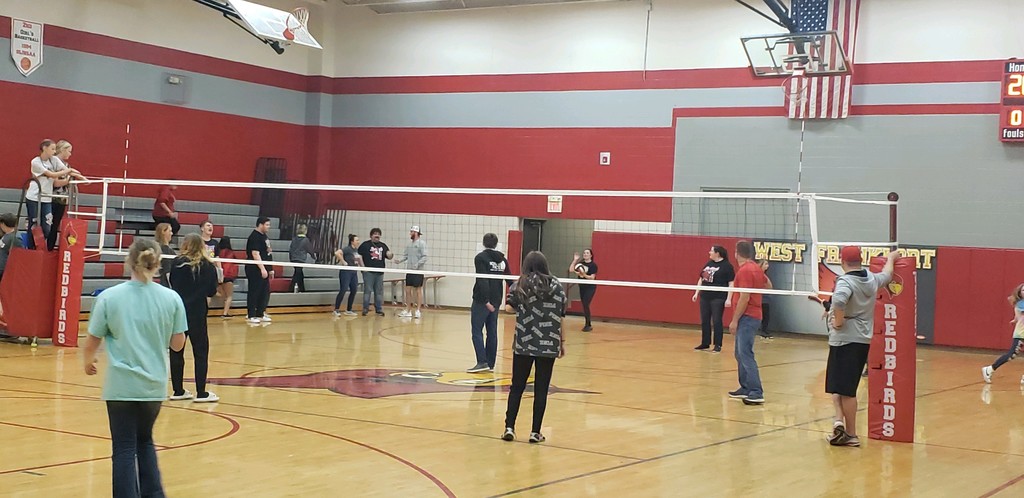 Ms. Willmore's 5th grade class was the March Madness Champion! Mr. Corzine rewarded our class with donuts and sodas! We also had an egg hunt this morning! What a fun way to start the day before spring break! 🌴😎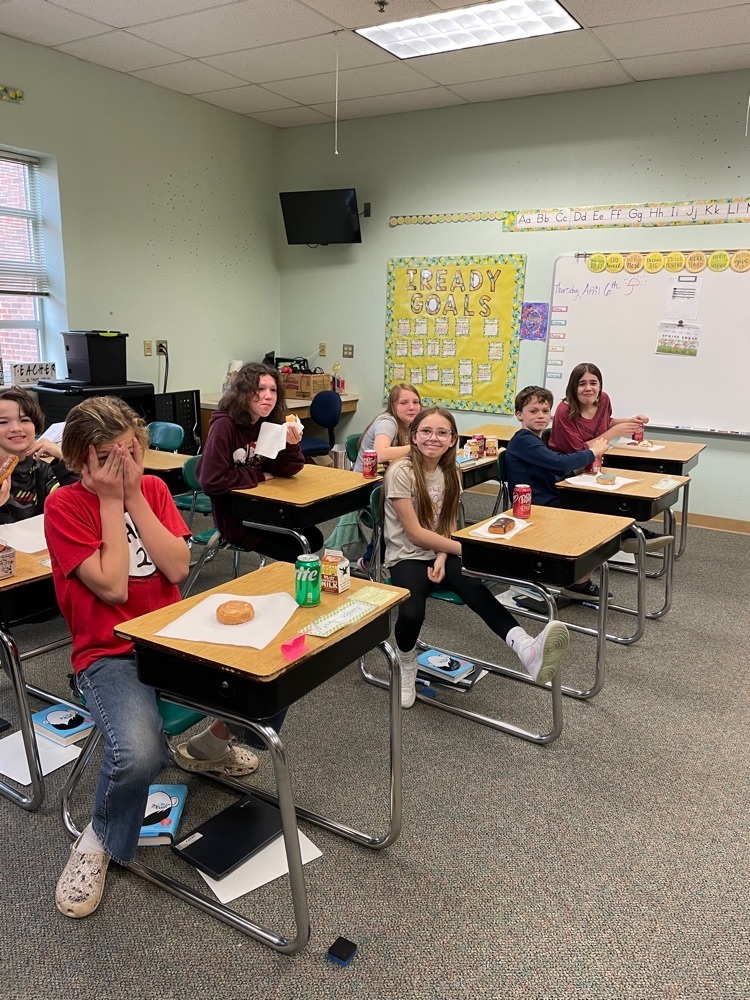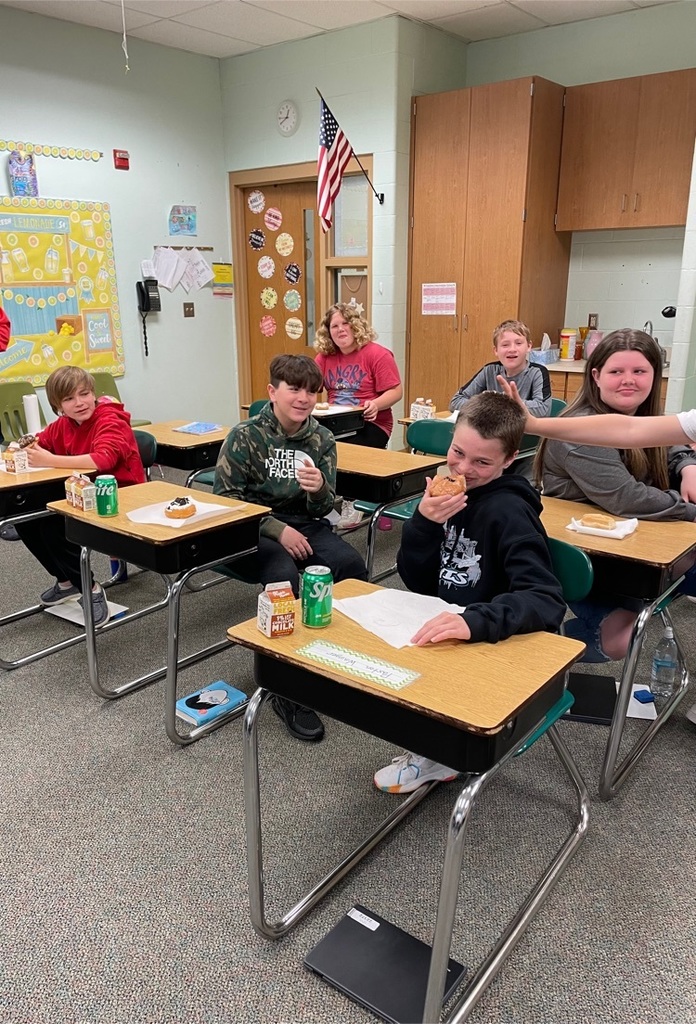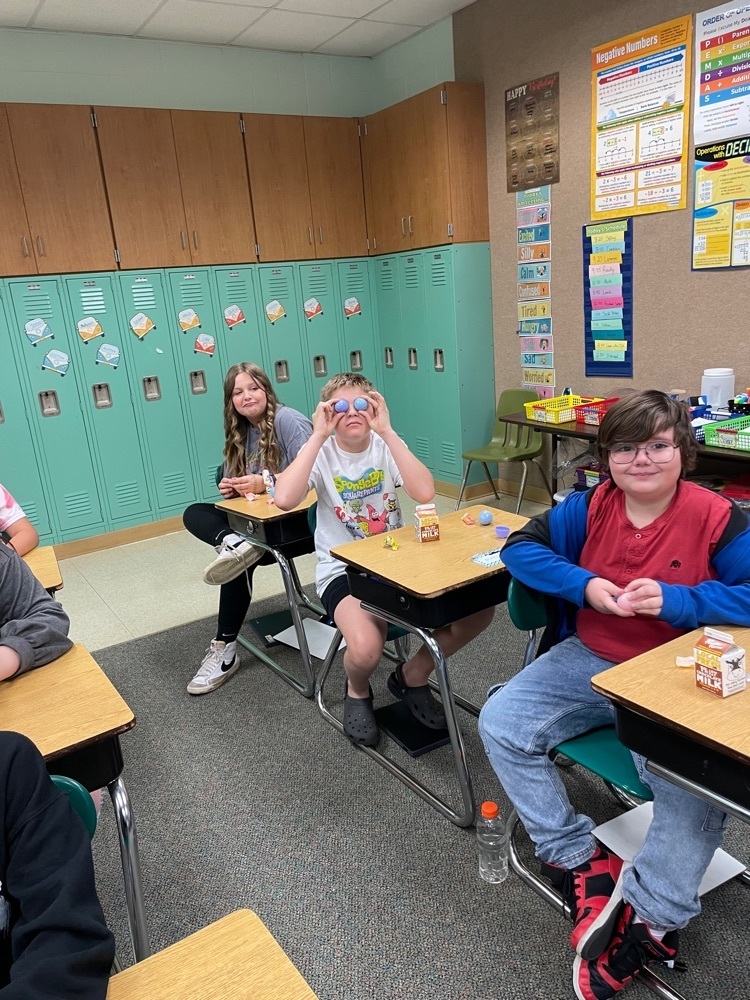 Mrs. Yadro's class raised the most money for St. Jude and celebrated with a soft pretzel party!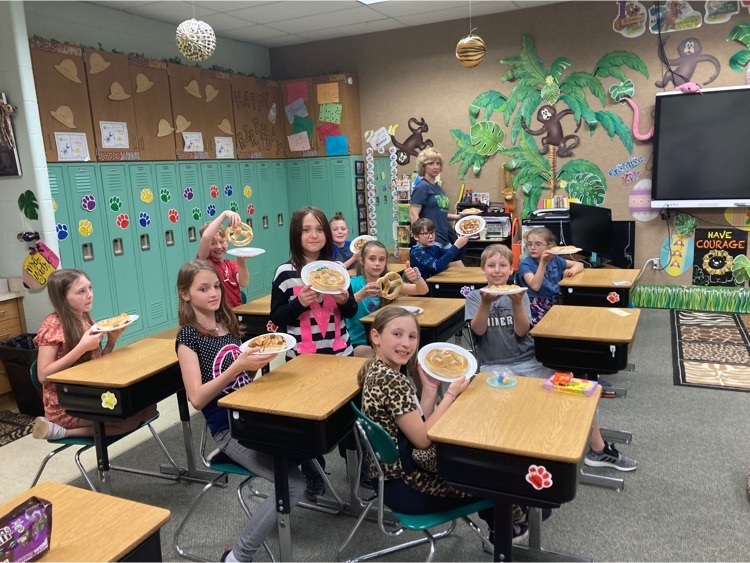 Congrats to our Papa John's Athletes of the Week! Hannah Humphreys for Track Anna Rolla for Softball Preston King for Baseball Brady Melvin for Track Great Job Redbirds!!

Today's softball game at Eldorado has been cancelled. 4/5

Congrats to Chalize Bowman on breaking the Central girls high jump record! She is a 6th grader and jumped 5'1 at her first meet! Way to go Chalize! #RedbirdPride!
❤️FCHS Cheer Tryout Schedule❤️ This will be the only tryout for the 23-24 school year. Athletes will have the option to try out for football cheer, basketball cheer, or both. Sign up sheets will be available at CJHS and FCHS offices after spring break. If you have any questions, please feel free to contact Jenna Harris at
jharris@wfschools.org
.